Tori Freestone Trio (GB)
Thu. 28.09.2017 | 19:00
Tori Freestone – tenor sax
Dave Manington – bass
Tim Giles – drums
Day pass Thu. 28.09.2017
2 concerts: € 25,00 / 18,00*
Many contemporary English bands, such as The Ivo Neame Quintet, Fringe Magnetic, the London Jazz Orchestra, Solstice, the Cuban Orquest Timbala and even country legend Lee Hazlewood, always gladly fall back on Tori Freestone's earthy tenor saxophone.
And with her very first trio album, she caused a sensation beyond the British Isles. The 44-year-old Londoner drew attention with unwieldy and smoky jazz originals which evoke the diffuse feeling of an aesthetics in the vein of Albert Ayler or John Surman, respectively, while at the same time displaying abundant inventiveness.
With El Barranco, the British scene's wiry front-row lady has thrown yet another log into the fire, one that roots her attitude toward melodic improvisation even deeper within jazz tradition. In the course, her irresistible, mature, and detached sound in combination with her congenial partners Dave Manington and Tim Giles provides a source of overwhelming expressiveness.
An impressively original and formidable trio with a lot of space between jazz and folk. Even if El Barranco translates as "the hell mouth", and the trio does not shy away from atonal passages and some outbursts, the tempo usually remains restrained, and one can give a clear all-clear against free-jazz.
Tickets
Jazz in a bargain pack!
Festival pass: take 4, pay for 3! Weekend pass: take 3, pay for 2! 1 free festival day with both passes.
4-day festival pass
€ 83.00 / 66.00*
Weekend pass Fri – Sun
€ 58,00 / 48,00*
*Concessions for: Ö1, Arbeiterkammer, students, young and senior citizens
Further concessions:
Pupils aged 6 to 14 get a 50% concession on LeibnitzKULT events (excluding children's events).
Pupils aged 15 and older, apprentices, students, those performing community or military service (up to the age of 27 with valid ID) get a 30% concession on LeibnitzKULT events.
wheelchair users accompanying persons (one per wheelchair) get a 50% discount.
Concession tickets can be obtained from LeibnitzKULT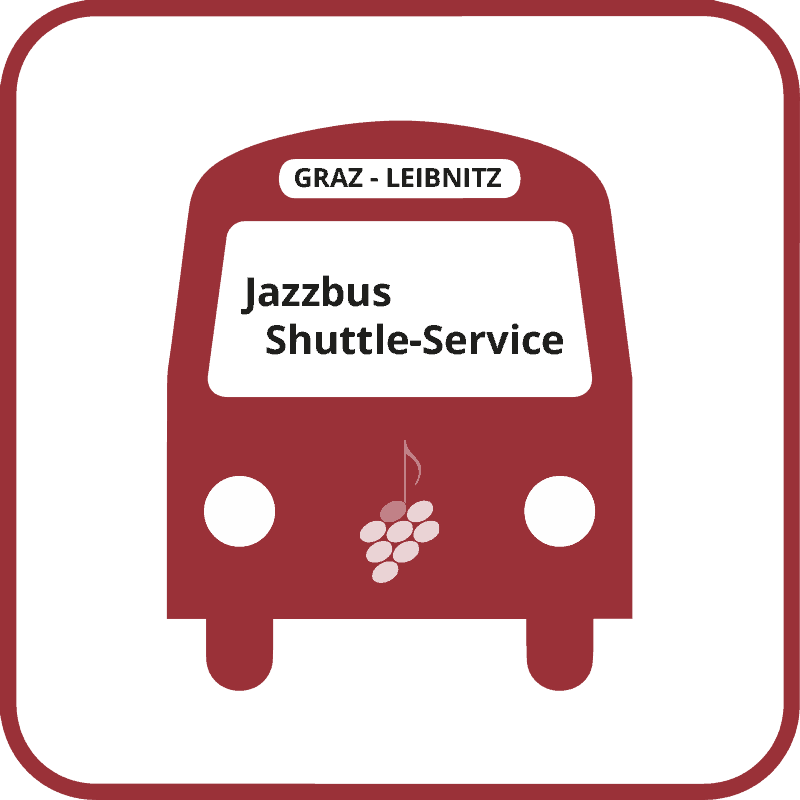 Everyday free shuttle service Graz-Leibnitz-Graz Registration required at +43(0)3452 76506 or office@leibnitz-kult.at.
Departure: Graz, Andreas Hofer Platz
Thu 28 September 17:45
from Graz, Andreas Hofer-Platz
Fri 29 September 17:45
from Graz, Andreas Hofer-Platz
Sat 30 September 17:45
from Graz, Andreas Hofer-Platz
Sun 1 October 11:00
from Graz, Andreas Hofer-Platz
Programme overview Jazzfestival Leibnitz 2017
Venues of the Internationalen Jazzfestival Leibnitz
Wine Cellar Schloss Seggau
Kulturzentrum Leibnitz
Vineyard Hotel Harkamp
Marenzikeller Leibnitz